At the community kitchen, women with disabilities affected by the Beirut Explosion regain a sense of self-worth and help others
Date:
At 6:08 PM on 4 August 2020, two explosions hit the Port of Beirut, causing casualties and material damage and severely impacting residents. As women and girls with increased vulnerabilities are a sizable portion of the affected population, UN Women partnered with the Lebanese Union for People with Physical Disabilities (LUPD) to provide income-generating jobs to women with disabilities through "Access Kitchen," a community kitchen established in Beirut. This work is supported by the Government of Austria as part of a joint project, "Emergency Livelihoods for Affected Marginalized Populations in the Beirut Explosion Area," implemented in collaboration with the United Nations Children's Fund (UNICEF).
In the neighborhood of Mar Mikhael, in Beirut, voices can be heard coming from an old yellow house. It is almost 1:00 PM, lunch rush hour.  30 women, all of whom have some form of disability, have finished preparing hot meals to be delivered to the vulnerable communities affected by the Beirut Blast. This group, composed of women from different backgrounds, has assembled at "Access Kitchen," a community kitchen managed by the Lebanese Union for People with Physical Disabilities (LUPD), to cook meals for vulnerable families affected by the Beirut blast. The kitchen also serves as a community safe space for dialogue and exchange.
For Hanan Bathatha, 28, there is never a day where she does not think of the Beirut Port Explosion. "Maybe it is fate, bad luck, or just a coincidence, that we were having dinner at a restaurant in Gemmayze, 2.4 km from the Beirut Port, at the exact time of the explosion."
Hanan's brother was visiting from abroad at the time and her family had met in a restaurant to celebrate. "We were enjoying the food and laughing; and suddenly the restaurant's walls fell on us! My sister and husband lost their lives, and I almost lost my leg. The memory haunts me to this day."
Hanan has had to undergo endless surgeries to save her leg. "The explosion left me disabled for life. I am grateful that I got to keep my leg, but still, it is hard to face society. People yell at me and ask me to walk normally. It is awful."
The Beirut Port Explosion created new vulnerabilities in affected areas and worsened an already difficult situation for women with disabilities and their families. A UN Women Gender Analysis undertaken in 2020 found that female-headed households in areas affected by the blast were more likely than male-headed households to report that at least one member of the household has a physical and/or mental disability (58% vs. 42%).
Hanan moved to Beirut a few months after 4 August but struggled to find a job. LUPD reached out to her after reading her story in media reports. She introduced her to the community kitchen project. "I was so excited to be part of this initiative," Hanan says. "Cooking is my hobby, and I was so moved by the idea that a community kitchen is giving this amazing opportunity to women with disabilities."
The project aims to reduce the impact of both the economic and COVID-19 crises, improve community engagement, and support women and girls with disabilities. "First we were provided with trainings on food safety, social media marketing, and accounting, and then we started cooking together," Hanan recounts.
Hanan found a second family in her teammates at the community kitchen, they helped her to overcome her trauma. "I have realized that our disabilities make us stronger. We are unique in our ability to stay positive, despite the challenges, and in spite of a society that looks down on persons with disabilities."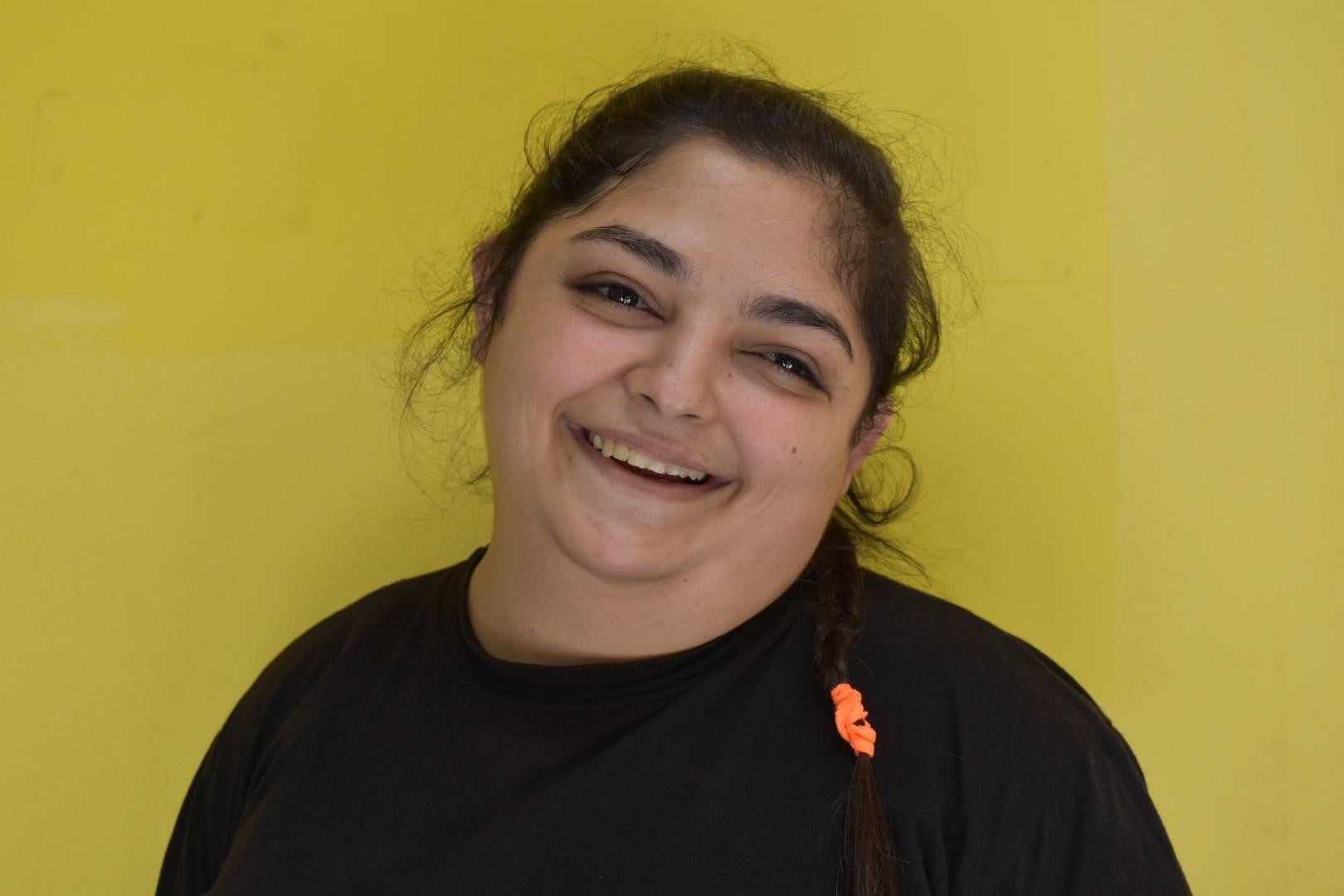 Christine Merhi, 27, refused to let her genetic disorder and mental disability stop her from achieving her professional goals. She says, "Ever since I was young, I wished to be independent. I felt like a burden to my family and sometimes everyone around me. I wanted to speak up and be heard, but others—my close family or relatives—always made decisions for me."
Stereotyping, stigma, and discrimination are challenges that people with disabilities, including women and girls, face every day in Lebanon. Inaccessibility at the workplace and in public spaces is a major barrier for women and girls with disabilities; they often find themselves facing unemployment, food insecurity, and poverty. The United Nations Economic and Social Commission for Western Asia estimated that 84% of persons with disabilities living in Lebanon are unemployed.
Christine used to work as a sales associate in a clothing store and then in a grocery store, but she found it difficult to hold down a job. When the explosion happened, she was providing home care to a sick person, in Bourj Hammoud, 4.2 km from the Beirut Port and not far from her home. She says, "The explosion tore through our apartment, blowing off windows and ripping the building roof. With the help of local organizations, we were able to fix it. Luckily, no one was harmed."
She joined Access Kitchen alongside other women and girls. There, she helps to prepare 60 hot meals every day to be distributed to families living in vulnerability in neighbourhoods affected by the Beirut Port Explosion. Working at Access Kitchen has helped Christine to achieve the independence that she always wanted. "I never expected to work in a place where I not only enjoy what I do, but where I feel loved and appreciated," she says. "I am now aware of my rights. The work taught me how to ask for equal treatment. I now have a sense of self-worth."
"Providing job opportunities for the disabled not only allows the national economy to benefit from their skills and their valuable participation but it also reduces the cost of disability to society in terms of the cost of care and disability compensation, as well as alleviating the problem of poverty," Nada Ozeir, Programme Manager at LUPD, explains.
Through this project, vulnerable women affected by Lebanon's multiple crises were empowered and became agents of change in their communities. They are now giving back to society by providing humanitarian assistance to other vulnerable women.
"Women and girls with disabilities are often pushed to the margins of society and experience profound discriminations. This can lead to lower economic and social status and increased risk of violence and abuse. Through this work, we are supporting community leaders from within their own community to assess, and meet their needs, with a powerful impact. We're looking forward to Access Kitchen opening as a public café and serving as a welcoming space within the heart of Mar Mikhael", Rachel Dore-Weeks, Head of UN Women Lebanon.